Jobs
SHK-Stelle
Beginn: Nov. 2019
Beschäftigungszeitraum: 24 Mon.
Arbeitszeit: 40 Stunden/Mon.
Vergütung: € 12,50/Std.
Kennziffer: 2112/18/19
Bewerbungsfrist: 20.08.-11.10.2019
Aufgabengebiet: Mitarbeit im Fachgebiet Molekulare Genetik, Vorbereitung u. Mitwirkung bei Lehrveranstaltungen
Anforderungen: Studium einer für das Aufgabengebiet einschlägigen Fachrichtung, Biologie/Biochemie; Kenntnisse der gängigen Office-Programme; Erfahrungen mit der Analyse von Nukleinsäure; wünschenswert wären Erfahrungen mit der molekularen Analyse von Pflanzen.
Bitte senden Sie Bewerbungen unter Angabe der o.g. Kennziffer bis 10.09.2019 an Prof. Schmitz-Linneweber:
christian.schmitz-linneweber@rz.hu-berlin.de
---
PhD Position (m/w/d)
Subject: Targets and functions of the chloroplast ribonucleoproteins CP33A and CP33B
As part of the DFG priority program 1935:  Deciphering the mRNP code: RNA-bound determinants of post-transcriptional gene regulation, we are looking for a motivated PhD student in the Department of Molecular Genetics starting approx. 1st December 2019. In this project, novel high throughput techniques like eCLIP or metabolic labelling of RNA will be employed to analyze two chloroplast-localized RNA binding proteins.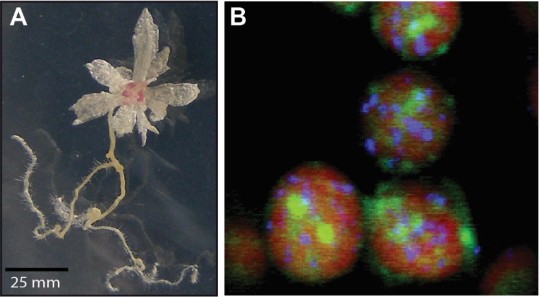 Your tasks:
Identify binding sites of CP33A and CP33B using iCLIP and RIP-Seq
Analyse the impact of CP33A and CP33B on RNA turnover using metabolic labeling and super-throughput sequencing of chloroplast RNAs
Perform genetic and biochemical analyses to understand, which RNase is the antagonist of CP33A and CP33B
Analyze the function of RNA granules containing CP33A using high-resolution fluorescence microscopy
Cooperation with Partners in the Priority Program
Scientific publication of the project results
References: Plant J. 2017 Feb; 89(3):472-485. doi: 10.1111/tpj.13396.; Plant Cell. 2012 Oct;24(10):4266-80. DOI: https://doi.org/10.1105/tpc.112.103002
Your profile:
Excellent M.Sc. degree in biological sciences or related field
Very good communication skills
Ability to organize and prioritize work efficiently
We offer:
Top level interdisciplinary research at an excellence university, which enjoys the highest reputation within Germany as well as internationally
3-year contract
Please send your full application, quoting "Kennziffer: DR/177/19", to Prof. Christian Schmitz-Linneweber by 16th October 2019:
christian.schmitz-linneweber@rz.hu-berlin.de