Birte Steinhöfel
It is with great sadness and heavy hearts that the IRTG 2290 and the team Molecular Genetics at HU announce the passing of our treasured friend, dear colleague and tenacious scientist and PhD student, Birte Steinhöfel, on April 21, 2022. Our dear, brave colleague has lost her race with cancer. After having hoped with her for a long time, her sudden death leaves us stunned. We deeply sympathize with her family, her fiancé and relatives and friends.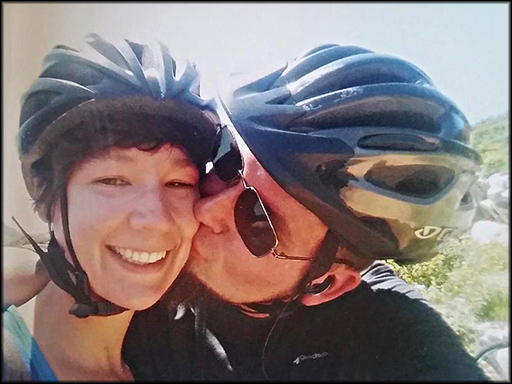 Birte had studied biology in her hometown of Marburg and finished with a Master of Science in 2015. During her studies, she has spent time at the Australian National University in Canberra in the lab of Giel van Dooren. This research stay was formative for Birte as a person – the first time to be abroad for so long and to fly, and as a scientist – she immensely enjoyed her work on the parasite Toxoplasma gondii in Giel's lab. Thus, she happily joined the International Research Training Group 2290 "Molecular interactions in Malaria", which gave her an opportunity to continue her work with T. gondii as a doctoral student in Berlin. With her experience from Giel's lab, Birte was instrumental in establishing T. gondii as a model organism in the Molecular Genetics group in Berlin. Being a perfectionist, Birte was able to explain complex issues, and she always passed on her knowledge to the other team members with enthusiasm and extreme precision. In the Molecular Genetics group, which mainly focuses on plants, Birte always felt a bit of an outsider working on parasites. However, she was very happy to participate in the joint activities during the common lunches as an opportunity to exchange ideas with all lab members. Particularly impressive was her ability to remember an almost impossible amount of dates and facts.
The team is extremely grateful for her major contribution to the success of the lab. In fact, already as a master student in Australia, Birte made important scientific contributions to parasite molecular biology that were published last year (co-author on: PLoS Pathog. 2021 Aug 5;17(8):e1009816; PLoS Pathog. 2021 Aug 25;17(8):e1009835.). Her recent work in Berlin will also be published posthumously. In her modest way, often tormented by self-doubt, she herself was unaware of what a talented scientist she was and what great potential she had for a further scientific career. Just a few months ago she was still planning experiments for later this year with us, demonstrating how much she loved science and how strong her desire was to answer her research questions even in the face of pain and death. With her vivacious personality, an unmistakable smile and a keen intellect, she was fantastic to do science with and we are tremendously glad that she shared her passion for science with us. More importantly, Birte was just in general a great person to be around – with one of her most important qualities: being there for others. She appreciated open and direct interaction and rewarded it with trust. Birte loved reading fantasy, especially books by Brandon Sanderson, Patrick Rothfuss, and Sebastien de Castell. She could spend hours discussing the characters, plot twists, writing styles, … possible solutions and possible sequels. She loved flowers, especially calla. When she was stationed in the palliative care unit, she received the most beautiful bouquet of flowers imaginable. She was so happy and the fact that the whole ward was talking about her flowers made her burst with pride. Her young age, her way of dealing with the disease and her imminent death, simply by being herself she made a huge impression on the palliative care unit.
Her urn was interred in a forest cemetery between English oak, Quercus robur, and European beech, Fagus sylvatica. A peaceful place for an unique, exceptionally wise and incredibly beautiful woman. Her noble character, her close relation with her co-workers and the students she taught, and her warmheartedness, we will keep in grateful memory. Her spirit will be sorely missed, and while our mourning is deep, our fond memories of Birte will outlast the grief.
Quotations on Birte's passing away:
"I only knew Birte within the context of her illness, but nevertheless I met a bright and radiant woman who was unwilling to let something like cancer hold her back. She was always matter of fact in explaining procedures and what had to be done for treatment. All the while, her true focus lay on what mattered most to her: her boyfriend (now fiancé), her family, and her desire to work as a scientist. She was an admirable woman, and it is an unspeakable tragedy that one so full of life will not be able to experience it further. I will hold her memory as an example of who I too strive to be. May she live on in all the hearts that cared for her."
"We got to know Birte as a powerful person with extraordinary optimism and positivity. I am very sorry you faced this during such isolated and lonely times, and I wish we would have been there for you more. We learned a lot from you, and you will always be among us."
"The unexpected news of Birte's passing has left me shocked. I will always remember her as a highly motivated and invincible friend who I had the joy of making Christmas cookies with once. My heartfelt condolences to her family, her friends and her fiancé."
"Dearest Birte, your strength and courage to fight against the cancer and to cope with your situation, your drive and dedication to continue your life and work have always deeply impressed me. You, your great spirit and your strong personality will stay on with me and inspire me."
"Birte was an amazing friend with such a strong passion for research. Her work and selfless teaching left a significant mark and a valuable legacy behind. I deeply admired her wittiness, dedication, fierceness, and strength. I miss her, I'll keep her dearly in my heart and cherish the memories of our time together. Dear Birte, goodbye."
The Molecular Genetics and IRTG2290 Teams